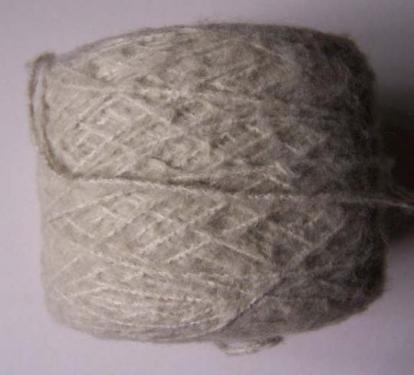 Mohair
Mohair (English: Mohair; Turkish: MUKHYAR) refers to the coat on the Angora goat, also known as Angora goat wool. Named after Turkish, meaning "the best hair", it is one of the most advanced animal textile fiber materials in the world market.
Since Angora goats are currently unable to fully implement artificial breeding, they can only grow in hilly shrubs, and only when the wool produced before the age of 8 can reach the textile standards, mohair is still a high-grade textile raw material, and the annual output of the world is only 26,000. About tons. At present, the main production countries of mohair are: Australia, South Africa, the United States, Turkey, Argentina, and Lesotho.
The appearance of mohair is similar to that of sheep wool. The length of mohair is 120-150mm and its diameter is 10-90μm. (The other is that the fineness is about 25 microns and the length is about 100-200mm). The scales are flat and tightly adhered to the hair shaft and rarely overlap, so the surface of the fiber is smooth, has a natural shiny color, silky luster, is not easy to shrink, and is not even felt. High strength, good resilience and abrasion resistance, dust-proof and anti-fouling, not easy to pill, easy to clean and wash. The cortical layer of mohair is composed of almost all of the positive cortical cells. Therefore, the fiber is rarely curved, and its effect on some chemical agents is more sensitive than that of normal wool, and it has better dyeability.
Mohair has a good affinity for dyes and bright colors. Mohair is mainly used for the production of coats, sweaters, blankets and knitted yarns. The men's and women's garments, jacquard blankets, decorative fabrics, laces, trimmings and wigs can be made pure or blended.
Embroidery Fabric,Dress Embroidery Fabric,Hand Made Embroidery Fabric,Kids Dress Embroidery Fabric
SHAOXING MINGHEE EMBROIDERY CO,LTD , http://www.minghee-china.com