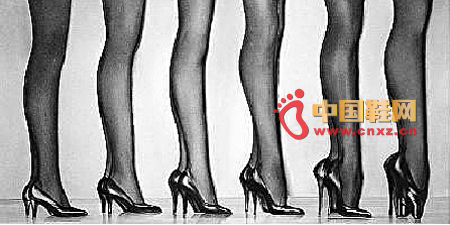 Evolution of the heel from 5 cm to 20 cm
[This site - Dr. shoes] recently has a picture on the microblogging is quite red, and girls who have seen the general will go home through the shoe, re-examine their beloved high heels - the picture compares six kinds of high heels for wearing The effect of the leg type was that the lower leg of the wearer's low-heeled shoes was fluent, while the calf wearing the high-heeled calf was significantly tense and convex. Not only did he not stretch the leg line, but he became bloated. Finally summed up: high heels is not the better look heels. It is said that there is also a foreign designer. The shoes are designed with 5 pairs of heels of different heights to allow the wearer to freely change the height of the heel according to mood, occasion, and collocation.
In the beginning of the year, people ties up the economy with the woman's heel. Some people say that the shoes mentioned by bloggers are getting lower, indicating that the economy is improving. Some people say that women's shoes in shopping malls are growing up. The future is cautiously optimistic... The height of women's heels is for economists, Entrepreneurs are confused and entangled, and they also bring new warnings to women.
In fact, high heels are not as good as the heel. The truth is that many girls understand it. However, every time you see those gorgeous haters, you can't help but wear them on your feet and move to your home. So, what kind of high heels can have both beauty and health? How can you wear high heels to keep yourself from being "injured"?
Wear high heels and prepare tools
Person: Shirley Age: 23 Height: 176cm Ideal heel height: 5cm
The tall girl Shirley said: "I will not deliberately buy shoes because of the season, usually go shopping or passing to see the like will buy, 7 ~ 8cm look good, but wear a bit tired." Her shoe close 30 pairs of shoes. More than a dozen pairs of high heels, of which more in the middle with. "Good shoes should be comfortable and classic." Shirley believes that the middle and heel shoes are more practical, and the heel of 3 to 5cm is also known as healthy heel, which can maintain the mental outlook of chest and abdomen. It is also good for blood circulation. Wearing a high heel with a height of more than 5cm is not comfortable for a long time and it is easy to be injured. "Buy shoes now, I will choose comfortable high heels, more stable, cushion is also soft, not easy to grind blisters."
Each person's foot is not the same, when wearing high heels, many places are easy to wear. Foot toe, toe side, heel or sole. Foot pain is sometimes unavoidable. Selecting shoes is on the one hand. On the other hand, you need to use gadgets. For example, there are many half-soles, cushions, and foot-protecting gadgets that you can try. Most importantly, Bring a bandage with you, feel that the foot is worn one, ease the friction, but also protect the wound.
Buy high heels, shake shoes first
Character: Kitty Age: 20 Years Height: 161cm Ideal Heel Height: 8~10cm
Kitty had a tall girlfriend, standing 170cm tall, and they were almost inseparable. "But when I walk together, I think I'm too short. She feels that she is too tall. So I started to wear high heels. I feel tired at first. Now I'm used to it, I'm a little upright and I'm confident. 8 to 10cm hegao is At least, in order to catch up with my girlfriend."
Kitty is now trained to wear high-heeled shoes. For her, with a heel and a heavier heel below 7 cm, as long as she doesn't need to lift heavy objects or get on the road, she can basically be as flat as the ground, 8 to 10 cm high. With her, she can also manage. Of course, this is based on "hard training": "When you first started to wear, your center of gravity was unstable and your body could not balance. Especially when you walk off Shizi Road or downhill, you have to fall. But after a long time, the center of gravity can grasp it. Well, now pick the shoes, I will shake the heel, must be stable enough, I will buy it.A little loose, or a certain comparison, and then I do not even look good to buy."
Aberdeen (24 years old, height 181cm) - woman wearing high heels is very sexy
"I like girls to wear high heels, not to say a girl, but to admire all the girls who wear high heels. Girls wearing high heels will look very tall and sexy."
Aqiang (25 years old, height 183cm) - same person, different gas field
"My girlfriend was 163cm tall. When I wore flat shoes, I took her on her shoulders very comfortably. I thought she was a friendly girl. I had a desire for protection; when she was wearing high heels, she suddenly had a gas field and was confident. It's very appealing, and there is a little bit of arrogance, when I naturally will take her hand."
Adam (28 years old, height 186cm) - The overall mix is ​​the most important
"I don't feel much about whether or not a woman wears high heels. I don't have a particular feeling. It depends on whether or not the whole thing is natural. Different styles match different shoes. There is no absoluteness. Men are not so detailed. I only see the whole person. A shape."
For high-heeled shoes, men and women have different opinions, so from the health and medical point of view, how do experts think? This time we consulted Li Maoqiang, an orthopaedic surgeon at a hospital in Hangzhou.
Q: What are the diseases that are easily caused by wearing high heels?
A: In addition to hallux valgus, there is an ankle sprain or even a fracture. Some young girls, due to incomplete skeletal development, high heels may cause deformity in their footsteps, as if wrapped in small feet. At the same time, it may also affect the development and health of the pelvis. In addition, when you walk in high heels, you often bend your knees. Over time, the degeneration and aging of the knee joint may advance, and even cause ligament injury.
Q: How high is it more suitable?
A: In my opinion, heels with no more than 5cm heel have relatively less damage to the bones.
Q: How should he wear high heels?
A: First, don't wear it for a long time. Just like the bones in other parts of the body, it will cause damage if you hold it for too long. In general, one or two hours should be changed and the same applies to shoes. Take it off, or simply replace it with flat shoes. If you wear eight or nine consecutive hours, even after taking off your shoes and using hot water to bathe your feet and massage, you can only alleviate the surface fatigue, and deep injuries cannot be relieved.
Q: Isn't it hard to wear high heels with waterproof platform?
A: The shoes aren't tired. You can't just look at the height. It depends on the slope between the forefoot and the heel. If the heel height minus the platform height, there are seven or eight centimeters, then the shoes will still be very tired to wear.
· The old shoes at home are like this to transform big spikes
· Old shoes don't stupidly throw away so that the shoes "open"
Put a physical insurance on your shoes
· How to clean the matte surface of the shoes?
· Breathable, antibacterial, deodorizing socks with it to avoid off shoes
·Sports shoes's little tail actually has these 3 functions you certainly don't
·High-heeled shoes audio sound? 4 coups to ease you learn a few
·How to choose shoes during pregnancy? Flat shoes are not safe
What should I do if my shoes become moldy
·Wearing these shoes in the summer will hurt you
Changxing Baihong nonwoven fabric Co., Ltd. is located in the beautiful Taihu coast, Hongxing Bridge Industrial Park, Changxing County, Zhejiang. Over twenty years experience of production and industrial chain advantages of Adhesive Interlining, the company has made a high starting point at the beginning of the both woven and non-woven fabric line.
The company has achieved the annual production capacity of two thousand tons of multi-purpose hot-rolled non-woven fabrics each year and product gram weight range from 16 gsm to80 gsm.
B.H Interlining, Best service with High-end Interlining. Deserve your trust!
Shirt Interlining,Interlining For Shirt Collar ,Cotton Woven Shirt Interlining,Shirt Fusible Interlining
ChangXing B.H Interlining Co.,Ltd , http://www.bhinterlining.com