This market apparently has become UNIQLO's largest gold rush in the extension of the number of shops at the same time, UNIQLO is also trying to innovate, now a far away from the urban areas of the self-drive shopping is the introduction of large-scale Chinese market, behind this model also revealed Out of ambitions for land development and commercial real estate. According to statistics, starting from 2002 in Shanghai, Uniqlo quickly opened 136 stores in the Chinese market in 10 years and the number is expected to exceed 500 in the next five years. "DRIVE-IN opened on May 26, which is the first one in China. In the future, we will continue to increase in cities such as Beijing, Guangzhou and Shanghai." Fasting (China) Trading Co., Ltd. Penning, general manager of introduction, this store is located in Cao Yang Road area of ​​2900 square meters, gathered around the textile and apparel gift market, the center will not store, the most popular quarter of the most complete commodity. In Penning's eyes, relying on the automobile industry to help out, one-stop suburban consumption marketing channels have been popular in Japan, Europe and the United States, will also be the vitality in China. In fact, UNIQLO Japanese brand originated in this suburban shop, until 1998, UNIQLO also maintained the main road outside the establishment of the main business of the suburbs of the business model. After 1998, UNIQLO try in Tokyo's most bustling area, but also the most admired fashion district Harajuku opened its first city center shop out of control, began to advance into Japan's big brands, and gradually to include Tokyo, Osaka, Nagoya penetration of these cities. Formed the origins in the suburbs, flourishing in the country's development model. In the Chinese market, UNIQLO Metropolitan Center stores have begun to second-tier cities layout, Changsha, Taiyuan, Kunming are in full swing, as of the end of February, UNIQLO in the Chinese market already has 136 brand outlets. According to Penning's expectations, physical stores can better present the products and their ideas, the next five years UNIQLO shops in China is expected to reach about 500 ~ 600, while self-drive shop will be mainly in Guangzhou, Beijing and other first-tier cities spread , For 5 years and this large suburban stores is expected to account for about 20% of total sales. "This investment than the city center stores in the investment, rent has an advantage, but in addition to our own UNIQLO products, but also the introduction of catering, cosmetic, medicine, home appliances and other facilities, accompanied by UNIQLO commercial Real estate considerations. "Penning introduction, then UNIQLO does not necessarily have land ownership, may be lending rights, leasing rights, in short, UNIQLO dominated a site-based business model will not only attract businesses, will lead a New consumption patterns. Due to fierce competition in the industry, Penning declined to disclose the amount of investment in the first self-drive shop, said cheaper than the center shop. A publicly available data, UNIQLO is located on the Nanjing West Road 2300 square meters flagship store single investment amounted to 30 million US dollars. At present, China has become UNIQLO's most important market, Japan Fast Marketing Co., Ltd. Chairman and CEO Yanai has publicly said that the next 10 years, China's market share exceeded Japan's market, reaching 10,000 billion yen (about 10.7 billion US dollars ). In the UNIQLO development forecast for 2012, overseas markets are expected to generate sales revenue of 16 billion yen for the first half of the year, accounting for 20% of total revenue and 70% for the Asian market led by China. Compared to the radical in the physical store, for the current surging e-commerce market, UNIQLO is very cautious. "We now have a platform for Taobao and Alibaba, but the group does not intend to build its own platform for network marketing," Penning said. As friendship with Jack Ma, as early as 2009 Uniqlo and Alibaba, Taobao formed a strategic partnership with other brands are different is that the price of UNIQLO with the same store, discount series is almost synchronized When the holiday, the shop may be in front of the store to do promotions. It is reported that UNIQLO online sales less than 10% of the total. At present, the entire e-commerce industry is facing a dilemma of loss, maybe this is the fundamental reason Uniqlo uninterested. Journalists in UNIQLO office corridor close to their 2012 goals: ambitious, move forward. Penning did not specifically explain how big the target, only disclosed sales in the first half is expected to increase by 90%. It seems that confident full UNIQLO has long been ready to occupy the Chinese market.
Women`s T-pants
women`s T-pants has Eco-Friendly, Quick Dry, anti-bacterial, Anti-Static, Breathable, Women`s T-pants made by a series of processes such as yarn and knitting, women`s to wear so sexy,every day, the amazing protagonist of achievement.
Description of women`s T-pants
Style: so sexy
Feature:Anti-Static,Anti-Bacterial
Size: customized size
Color: picture color customized
MOQ: 3000pcs
Payment: L/C,D/A,D/P,T/T,Western Union,MoneyGram payments
Material: spandex/cotton
Delivery time: 45-60
Packing: 1pcs get into one polybag,12pcs get into one big polybag
Description of women`s boxer
Supply type: OEM service
Service: OEM/ODM service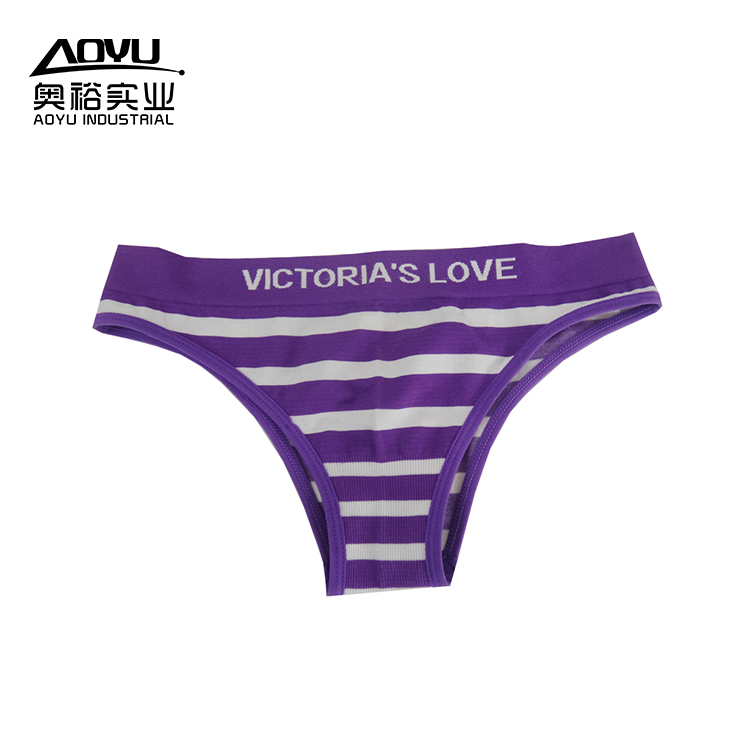 FAQ:
Q: Are you a manufacturer or a trading company?
A: We are a professional underwear manufacturer,which has been exported for nearly 12 years.
Q: Can you provide me with a sample?
A: Yes,we can provide you with samples,you need to pay for shipping.
Q: What is the way of payment?
A: :more money is 30% deposit,and 70% is paid by wire transfer before delivery.
Women'S T Pants,Quick Dry Women'S T Pants,Breathable Women'S T Pants,Comfortable T Pants
Shantou City Aoyu Industrial Co., Ltd , https://www.staoyu.com