Based on the brand concept of "Fashion is so close", using "high-end design, popular fabrics, and affordable prices", it has created a new model of "fashion positioning and parity sales" in the Chinese men's wear field, which has become HOZZS' victory in the Chinese men's market. Killer.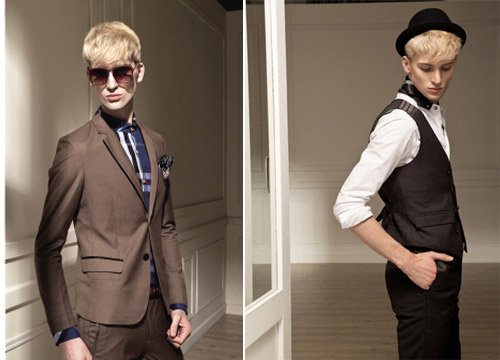 Huang Ping, deputy secretary-general of the China Fashion Designers Association, pointed out from the market point of view that China's current leisure products tend to be homogenous, and the audience for fashion products is too narrow. This embarrassing situation has a long history. At this time, affordable fashion presents a difficult market opportunity, especially in today's big economic context, the trend of cheap fashion is bound to intensify in China.

Innovation: Fashion Positioning Cheap Sales

The fashion that hangs in a pretty window always looks beautiful, but the price is high and it is prohibitive. However, with the sudden emergence of ZARA, H&M, and C&A, they have made remarkable achievements in the field of affordable fashion, making the saying that "fashion is not cheap and parity is not fashionable" has become history.

According to economist Lang Xianping, clothing brands can be simply divided into two types, one is the top luxury brands such as LV and GUCCI. Their core assets are brands; the other is GAP, ZARA and other low-cost casual brands. Their characteristics It is the amount of running. The international tycoon giants ZARA and H&M have created a peculiar mix between the two. Their brand image is closer to the former, and the economic model has the same scale economic effect as the latter.

In the field of affordable fashion, "parity" and "fashion" are two core elements that quickly occupy the market. As an advocate of "cheap fashion", HOZZS is more popularized in fashion, based on the "fashion is so close" brand concept, using "high-end design, popular fabrics, and affordable prices" to create "fashion" in the Chinese men's field. The new model of positioning and parity sales has become the killer for HOZZS to win the Chinese men's market. "If you spend a few hundred dollars, you can enjoy the fashion of Chanel and Armani international big names." HOZZS brand officials believe that this is the external performance of cheap fashion, but also the core competitiveness of cheap rising fashion.

Accuracy: White collar collars grab the mainstream

The HOZZS brand evokes the European chivalry spirit and romantic descent, adhering to the European knight culture and urban street fashion style. It is favored by many young nobles' children, and goes to the internationalized Huazhixu. It is also characterized by high style, high quality and super. The avant-garde design method has formed a unique "neoliberal knight" spirit, which has spread continuously from all over Europe to form a new global fashion vane. It is deeply loved by the upstarts of European, American and Asian cities and is a modern age between 20 and 35 years old. City upstart representative of lifestyle.

Simple and stylish product style, matching store space, targeted cultural communication, accurate operation of the brand, lower fashion, fashion "worth", return to civilians. This fully ensures that HOZZS's pro-people and quality can always have the same, changing the values ​​of domestic men's fashion, and letting many men who are keen on fashion and can't be fully satisfied find the reason why they can "spend away."

Flexible: Market-oriented High-position high penetration

Different from ZARA, H&M, and other brands, as many styles and multi-audience groups as possible, the HOZZS, which uses young intellectual white-collar workers as the core consumer group, did not follow the ZARA and H&M sales through hypermarkets to form large-scale clusters. Market-oriented model, implementing the strategy of transversal and partial volume.

Instead, it uses the top strategic marketing advisors in the industry to subdivide the market positioning. In the extension and improvement model, HOZZS adopts a flexible vertical development model aimed at specific audiences. In the prosperous areas of important cities, there are landmark flagship stores to carry out high station positions; in the first-line market, the second and third tier markets are developed. You can either walk in the mall or go to the street shop. You can walk through commercial streets or community stores to achieve high penetration.

Through support policies and in-depth marketing strategies for key markets, distributors are assisted in rapidly expanding outlets, quickly completing the distribution of channels and starting the market. The head of the HOZZS brand pointed out that the HOZZS channel model is more targeted and deeper. Some experts predict that the textile and garment industry will be China's first breakout from the financial crisis and the most competitive industry. Perhaps, cheap and fashionable people who occupy certain advantages in the day and night can become a breakthrough pioneer in the apparel industry.

Guangzhou Yanzi Textile Co., Ltd. is a comprehensive company integrating design, development and production. Having certain influence and appeal in the domestic market, we have cooperated with more than 1,000 well-known brand clothing companies so far. Moreover, our products are sold well in more than 30 countries and regions including Middle East, Southeast Asia, Europe and America. Our company owns self-support import and export rights and has a domestic professional design team. We mainly produce diversified products such as embroidery fabrics, lace fabrics, jacquard fabrics and knitted fabrics, etc.

Yanzi Textile has a team that is hardworking, passionate and innovative. We are full of vigor and ideal in our work. Good services to our clients is the core goal of our daily work.

Africa Lace,Navy Lace Fabric,Textile Materials Lace,African Ankara Lace Fabric
Guangzhou Yanzi Textile Co.,Ltd , https://www.gzyanzilace.com