[This site - shoes and life] Do not underestimate the foot of a pair of shoes, if "choose bad", "wear wrong", it will bring foot disease, or even "difficult to move."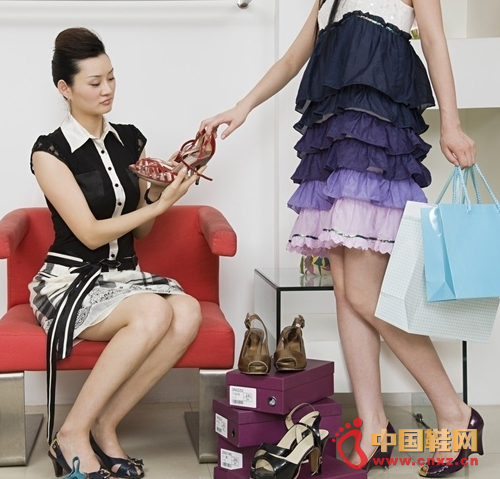 Recently, Taiwanese media reported that human toes can be divided into three types: Egyptian feet, Roman feet and Greek feet according to their length. According to reports, the Egyptian foot type is most common in Taiwan, and the big toe is longer than the other 4 toes. Taiwanese men are almost all of this type of foot. This type of foot is more suitable for wearing beveled shoes.
The Roman foot is also called a square shape. The five toes of this foot shape are of the same length and do not have particularly protruding toes. They look like squares. People with Roman feet are rare and they are particularly suitable for ballet dancing. When choosing the shoes in Rome, you can choose round head and square head shoes.
Among them, the length of the second toe is longer than that of the other four toes. This is the "Greek foot", and those who have such a foot usually have long limbs. Some studies have found that women with Greek feet are not necessarily beautiful women, but the vast majority of women are in line with the longer toe characteristics of the second toe. Interestingly, the Statue of Liberty in New York and the statues of the Greek gods are all of this type. Even the heroine Lin Chi-ling and the artist Yang Jinhua have Greek feet. The Greek foot is suitable for wearing pointy shoes because its second toe is longer than the other.
"Whether you belong to the feet of Egyptian feet, Roman feet, or Greek feet, you must pay attention to foot care, and you must choose and wear shoes." Recently, an orthopaedic surgeon and a doctor of medicine in the First Affiliated Hospital of Harbin Medical University. Yu Shuo interviewed reporters pointed out, do not underestimate the foot of a pair of shoes, if "choose bad", "wrong wear", will bring foot disease, or even "difficult to move."
According to the survey conducted by the Women's Health Organization of Europe, women who wear high heels, sandals or slippers have long been squeezing and afflicting their feet. The risk is 67% higher. Researchers used 3,378 elderly females with an average age of 66 as their observation target. They classified the styles they used to wear as good (sports shoes), medium (hard bottom or rubber sole shoes), and poor (high-heeled shoes, bag shoes). , sandals, slippers, etc. 3 groups, the results found that often heel pain in women, more than 60% have long experience wearing poor shoes.
Wearing shoes improperly leads to hallux valgus
Shuo Shuo pointed out: In China, due to inappropriate footwear-related foot-related diseases, the highest incidence rate is hallux valgus. At least 100 million people across the country have hallux valgus, and at least 20% of each woman's life may have hallux valgus.
Hallux valgus, commonly known as the big leg, refers to the joints of the metatarsal bones and the first metatarsal tilting more than 15 degrees. Hallux valgus can be caused by a variety of conditions. It is divided into congenital factors: it is caused by inherent diseases such as joints, nerves, and muscles. Such as flat feet, heredity, and reduction and imbalance of plantar muscles, resulting in instability and deformation. Acquired factors are often caused by wearing non-fitting shoes. Usually, the heel is too high, too sharp and too narrow to make the heel difficult to fix, and the toes are squeezed, rubbed, and oppressed, not only affecting the toe extension and activity, but also causing discomfort. And pain, but also undermine the function of the original three foothold, walking body weight falls on the front of the foot, the toes will gradually change due to weight compression, and ultimately the formation of hallux valgus. Hallux valgus foot shape is ugly, wear shoes off sample, but also accompanied by bunions and pain, and often concurrent foot pad, corn, claw toe and other toe deformities.
Yu Shuo pointed out that nowadays popular high-heeled shoes, witch shoes and so on are the biggest "protocols" to accelerate hallux valgus. Today, the popularity of high-heeled shoes on the street makes women more than four times as likely as men to suffer from foot problems, which seriously affects their normal walking ability and physical health.
Hallux valgus needs correction
"Currently, clinically the hallux valgus clinically uses conservative orthopedic surgery and surgical therapy." Yu Shuo introduced that the former is using the hallux valgus orthosis (commonly known as the "bigfoot appliance") through the pair of hallux toe Pressure tends to balance control, improve the angle of deformity and the condition of the hallux torsion, make the big toe skeleton in the normal human biomechanical position, and gradually relieve pain and deformity and recover. This method is often used for correction of hallux valgus and toe deformation, correcting and limiting the development of hallux toe deformity. It can delay the deterioration of hallux valgus and can effectively prevent some complications.
The latter applies to people with severe pain and severe malformations. Surgery is mainly to remove the bursa and hyperplastic bone. If the joint capsule on the medial side of the metatarsophalangeal joint is too loose, it can be tightened by overlapping the partial joint capsule. Intramuscular adductor tendon amputation and first metatarsal osteotomy are also common methods, and the best surgical procedure is selected based on the degree of deformity.
Should choose shoes according to their shape
Shuo Shuo suggested that people should choose the right shoes according to the shape of their feet. He suggested that when buying shoes, you should buy a pair of wide head shoes that allow enough space for your toes to reduce the pressure on your toes. In addition, the standard shoes with proper arch design have strong shock-absorbing and decompressing effects, which can ensure that the whole body weight that the foot receives during walking is evenly distributed on the soles of the feet, and will not be pressed to the toes due to improper distribution, resulting in inflammation of the ligaments. And relaxation.
· The old shoes at home are like this to transform big spikes
· Old shoes don't stupidly throw away so that the shoes "open"
Put a physical insurance on your shoes
· How to clean the matte surface of the shoes?
· Breathable, antibacterial, deodorizing socks with it to avoid off shoes
·Sports shoes's little tail actually has these 3 functions you certainly don't
·High-heeled shoes audio sound? 4 coups to ease you learn a few
·How to choose shoes during pregnancy? Flat shoes are not safe
What should I do if my shoes become moldy
·Wearing these shoes in the summer will hurt you
Stylish, heavy or lightweight, while at the same time keep you warm in chilly weather, for women, men and kids.
Shell: 100% polyester; Upper body lining (Heat Reflective Fabric) : 100% polyester; Remaining Lining: 100% polyamide; Insulation: 100% polyester

Imported

Zipper closure

Durable, soft-to-the-touch, 100% recycled polyester shell with a DWR (durable water repellent) finish and insulated with premium recycled airy down alternative can stays warm and fluffy when wet. It provides better down-like warmth and maintains high thermal performance in cold and wet conditions.

Thermal reflective warmth: The breathable warming technology helps regulate your temperature with little silver dots that reflect and retain the warmth your body generates. The silver heat reflective fabric also help to reduce your need for bulky layers and wick moisture to keep you dry and comfortable.

Design details: full-zip closure, attached drawstring insulated hood with adjustment cords, zippered hand pockets are lined with soft brushed jersey and are zipped with reflective logo zipper pull, media-compatible internal zipper pocket, adjustable hem with drawcords routed inside and elasticized cuff rib can prevent wind and chill effectively.

Occasions: suitable for various indoor and Outdoor occasions such as business work, school, picnic, party, running, riding, cycling, mountain climbing, hiking, camping, fishing, skating, skiing, snowboarding and other activities in Fall & Winter.

Care Instructions: hand wash is preferred or follow the machine wash instructions; Close all zippers before machine wash; Machine washable in cold & gentle cycle with similar colors; Wash the garment inside out; Only non-chlorine bleach when needed; Hang Dry and then gently pat the migrated filler back to normal.
Winter jacket, winter coat,Plus Size Puffer Jacket,Warm Jacket
SUZHOU QIANTENG GARMENTS CO., LTD. , https://www.garmentfactorychina.com